Greetings from Aberdeen!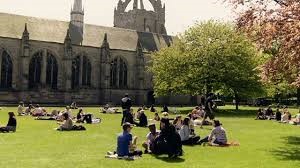 Daniel studuje v Aberdeenu.
Greetings from Aberdeen!    
Dear all in the Bishop Grammar School,  
perhaps because of the fact that the siren test is held every Wednesday and not just once a month, as it is at home, the first quarter passed by very quickly in Aberdeen. It is not a long time ago I downed the first can of Irn-Bru and tried Buckfast (a tonic wine with caffeine). It is not a long time ago I first  walked through the narrow aisles of the medieval campus. And you see, today it seems like eons ago to me.  
So far, so good as I had hoped, so I am extremely happy. Even though I really had not expected that, the Scottish people are very nice and smiling. And even though their accent is not always totally understandable to me, in the end we always do understand each other. I hope…
During the first month, I found all the lecture rooms and theaters successfully, I bought a guitar and I did endure studying - despite all roaring drunk Scotsmen. (Scotsmen do not drink much alcohol until they reach the age of 18, thus they have to make up for it during the freshers week.) The University of Aberdeen is famous for a big amount of different student societies, I myself am now a member of Math Society and Czech and Slovak Society. Both are very active so I even do not catch all events which are held by them.  
The Scottish educational system is probably very different from the Czech one and I do not see many negatives in it. I could have chosen subjects I liked - so except of Maths, I am also studying Economics and Philosophy. Btw. in Philosophy we are reading Hume's 'Enquiry concerning Human Understanding' in the original, which is quite challenging for me! We have just a few lectures, just about 15 a week, but we have to study a lot by ourselves at home. The support lurks on every corner: If I have any difficulties, I can ask my Subject Tutor or my Personal Tutor or my Professor and all of them will do their best to help me. Thanks to that I am doing very well in Mathematics and hitherto I have not had any long-term problems. In spite of the fact that Math is full of them…
Aberdeen is a beautiful medieval granite city surrounded by a cold sea. It is full of trees, beautifully manicured lawns, stone walls, paved roads and gothic cathedrals. When it is raining, the granite gets darker and green lawns shine. It's a magic!  Everything gloomy and grim highlights something bright.  
It wouldn't take long and it will be Christmas. And I will go home. However, before that I have to pass all my exams. The lectures end in two weeks and right afterwards the exams follow. I believe I can handle everything successfully. I'll try to do it. I'm on it!  
I wish you all the best! Daniel  
Aberdeen 11. 11. 2017