Kuokkalan koulu in Jyväskylä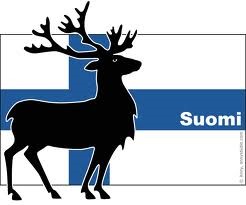 Pozdrav z Finska.
Hello our Czech friends,
I have had the pleasure to get to know you, while our schools did Comenius cooperation. I would like to continue our friendship and that's why I tell you something who we are and what have we done together.
I am a history and social studies teacher from Kuokkala school.  The school was founded in 1994 and it just celebrated its  20-year anniversary. The school building was designed to encourage awareness and responsibility for the environment. For example, there is a green room which offers a varied learning environment with its plants and peaceful rest area. Our school attaches great importance to international cooperation and every year hosts numerous foreign visitors. The school's mission is based on a number of pedagogical surveys carried out both by teachers and researchers at the University of Jyväskylä.

Kuokkala is a thick populated suburb in Jyväskylä in Finland and the students come from many different backgrounds. Some live in affluent residential areas while others reside in municipal-owned apartment buildings. 10% of the students are from immigrant families, most of whom are refugees. Thus, there are students from different socioeconomic, religious and ethnic backgrounds, which presents a unique teaching environment. The teaching staff are well-educated and highly motivated to meet the challenge and we take pride in implementing innovative teaching practices, especially in the area of differentiated instruction to ensure that all students' different learning needs are met.
The first time I, two other teacher and our students visited the Czech Republic in 2010, it was beginning of friendship and cooperation. After the first meeting we started to plan next project together. Comenius project started when we realized there are two beautiful UNESCO churches in our surroundings and we can widespread information about their uses and functions nowadays. In the project there were twenty-two students from the schools and they got to know one another very well during the work on the project through e.g. email correspondence, Facebook, work on Wirkko magazine, during their stays in their homes and different kinds of trips and events. The project work was the most intense during the exchange stays in both countries which took 12 days each in October-November 2011 in Finland and in September 2012 in the Czech Republic. Wirkko magazine is a blog and can be read by anyone who is interested. Here is the address: http://wirkko.blogspot.fi/.
The entire project gave a lot of information, but also improved languages skills and self-confidence to use the languages, it also gave new experiences and new friendships. In addition to the churches teachers and students had the opportunity to visit in a breathtaking locations such as Villa Tugendhat, Alvar Aalto Museum, Suomenlinna and Kalrstejn Castle. Also World heritage concept opened up a new way for students who have been involved in the project, and the whole school. Personally I have seen and experienced a lot and it has been a pleasure to give pupils the opportunity for unique experiences. It is difficult to summarize insight of the project, it united with so many things: pupils' homes, schools, localities, countries and the whole world. I hope that our cooperation will continue in the future. International work takes time and effort, but it's worth every way.
With best regards, Jenni Ryssy