Žďár nad Sázavou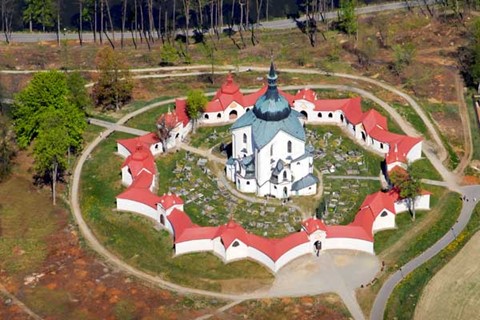 Basic information about our hometown.
Žďár nad Sázavou
Žďár nad Sázavou lies in the headwaters of the River Sázava in the heart of the Czech – Moravian Highlands (580 m above the sea level).It has about 25,000 inhabitants.
The weather is colder than in for example Brno because Žďár is in the Highlands and it's in the north. The winter is very cold and it usually snows but the summer is very warm – temperature is often above 33°C.
There are many interesting buildings in this town. Firstly it's the Town Hall. It was originally built in Renaissance style but now it's been reconstructed and it's a very nice building. Žďár is known for UNESCO site – the Church of Saint John of Nepomuk. This church is situated on the top of Green Hill so it's known as the Church on the Green Hill or just Green Hill. It was designed by Jan Blažej Santini Aichel – the walls are in the shape of a star. It's one of the most important  and most beautiful buildings in Žďár. In this town  there is also the Monastery. In the past thanks to this monastery, which was built by Cistercians, Žďár became a very important city. The whole area involves Basilica Minor and Well Chapel. In the castle there is also Santini exposition.
There are five primary schools and two Grammar schools in Žďár, including the Bishop Grammar School where we study.
There is also a very beautiful Church of Saint Prokop which is built in Gothic style.
The biggest faktory in Žďár is Žďas. It's known all around the world and it employs many people. Parts of cars are made there and Žďas cooperates with Škoda auto in Mladá Boleslav.
You can find hundreds of restaurants, pubs, shops and parks in Žďár. There are also sports centres, shopping centres, banks and hotels. You can study here or just relax in the  entertainment centre in Pilská nádrž on the edge of Žďár – that's the new and very modern entertainment park next to the pond of Pilák.
There is also a theatre and a cinema and a library.
Every year we can enjoy several traditions and cultural events. For example Horácký džbánek which is famous Folk Music Festival - people can buy interesting things, beer and listen to typical  Moravian Music (music bands like Fleret or Čechomor). And every year we have many music events here – lots of concerts take place in Kulturní dům in Žďár (Chinaski, Vojtěch Dyk, Javory and so on…). Every summer we can visit the summer cinema and see many interesting Czech films. Three times a year we can buy local BIO products on farm markets (honey, cheese, etc.)
Žďár isn't a very big town so we can use only buses for travelling around the town. But there is a big modern railway station and just next to it there is the big bus station. Bus stops are almost in every street so you don't have to walk too much. If you like cycling you can use new bicycle paths. Or you can just use your own car.
Žďár is a hometown of many famous people. A very successful speed skater Martina Sáblíková, ice-hockey players Petr Koukal and Tomáš Rolinek, skier Martin Koukal and basketball player Eva Vítečková come from Žďár. Vladimír Šacha was a writer and poet and he is known for the book "U vyhaslých milířů" that tells legends from Žďársko region. Some public buildings in Žďár are named after significant people – for example the art school is named after a famous violinist and composer František Drdla.
There are many advantages of living in the town but you can also find negative things. For example in the village there is much fresher air and the countryside is nearby – you have woods and meadows just in front of your door. And there is also silence, you don't hear the cars all the time and at night you don't see the lamplight.
But the truth is that in the village there are traffic connections worse and there aren't many shops or public buildings like sports centre, gym or theatre.
On the other hand there are many shops in Žďár so you can go shopping every day or when you necessarily need something very quickly It's not problem in the town – you can go to the shop and be back in ten minutes. Public transport is very good in towns, better than in  villages. And you have many possibilities how to spend your free time – theatres, cinemas, shopping centres, parks, restaurants, pubs (if you're older than 18).
We all like Žďár. It's not as big as Brno but it's more comfortable here. But we have all we need in this town. But the weather in Žďár isn't very pleasant – it's quite cold. We like parks and paths near the Green Hill because they're beautiful and they seem like  like in the countryside. But on the other hand we are glad that there are many shops, restaurants and events. To sum up Žďár is the very nice town and we all enjoy living and studying there.
Oktáva a IV.B classes, 2015